Level 2 GCSE English Language
Course Code: Q100039
Key Information
Course type

GCSEs & Functional Skills

Campus:

Sixth Form Campus

Start Date:

Sept 23

Duration:

One year

Attendance:

Full-time

16-18 school leaver fee:

Free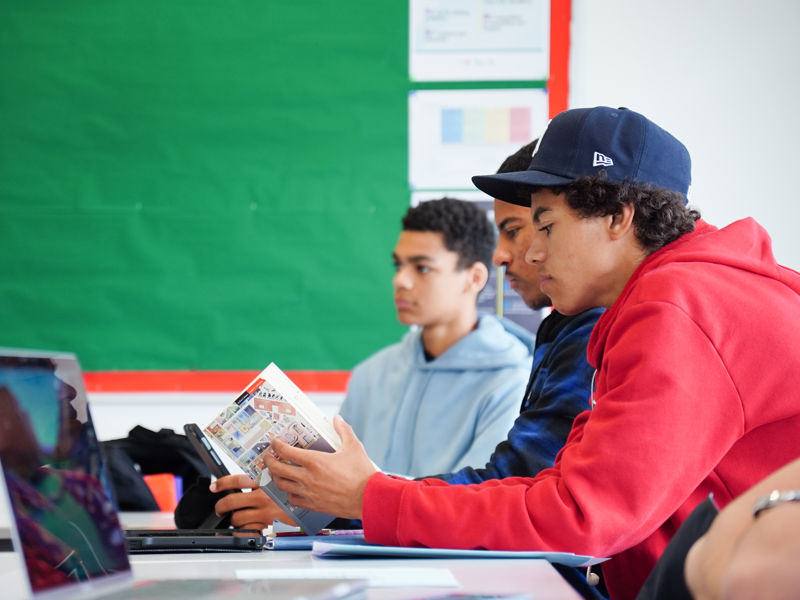 This course enables you to take your next steps to a Level 3 programme. If you have a grade 3 GCSE in English language, you will be required to retake the GCSE in your first year at College.
Units include:
communication in speech and writing
reading a range of extracts from well-known fiction and non-fiction books
reading a range of political and inspirational speeches
creative and imaginative writing.
You will read a range of extracts from well-known fiction and non-fiction books from the past 200 years such as 1984 by George Orwell, The Lovely Bones by Alice Sebolda and The Night Circus by Erin Morgenstern, as well as a range of non-fiction texts like the journalism of Charles Dickens and Captain Bligh's diary after the Mutiny on the Bounty.
A minimum of five GCSEs at grade 3 or above, including English language at grade 3 or below.
100% exam/spoken language endorsement.
You will have a 9.55am start, one lesson in the morning, one in the afternoon and a guaranteed 4pm finish. You will also have at least one morning and one afternoon per week free for private study.
You may be interested in progressing to an English or media-based subject. Future careers in these areas might include journalism, marketing and public relations. A grade 4 or above at GCSE English is the new gold standard for employers in all fields.
Related Features
Event 17-05-2023
May Open Event - Highbury & North Harbour Campuses
Check out all the fantastic adult & vocational opportunities available at our Highbury & North Harbour Campuses by coming along to our next open event on Wednesday 17 May, 4.30-7.30pm.
NEWS 14-12-2022
More choice to find the route that's right for you!
Our exciting journey has taken a giant leap forward! This new website is the result of Highbury and Portsmouth College's official merger, an ambitious move which is already creating significant benefits for the city and region.
NEWS 18-08-2022
Jubilant students celebrate record A Level results
Students and staff are celebrating record A Level results today, with a remarkable 99% pass rate.