Acoustic Guitar for Improvers for Adults
Course Code: Q271765
Key Information
Course type

Hobby & Leisure

Campus:

Highbury Campus

Start Date:

April 2023

Duration:

8 weeks

Attendance:

Part-time

Adult fee:

£72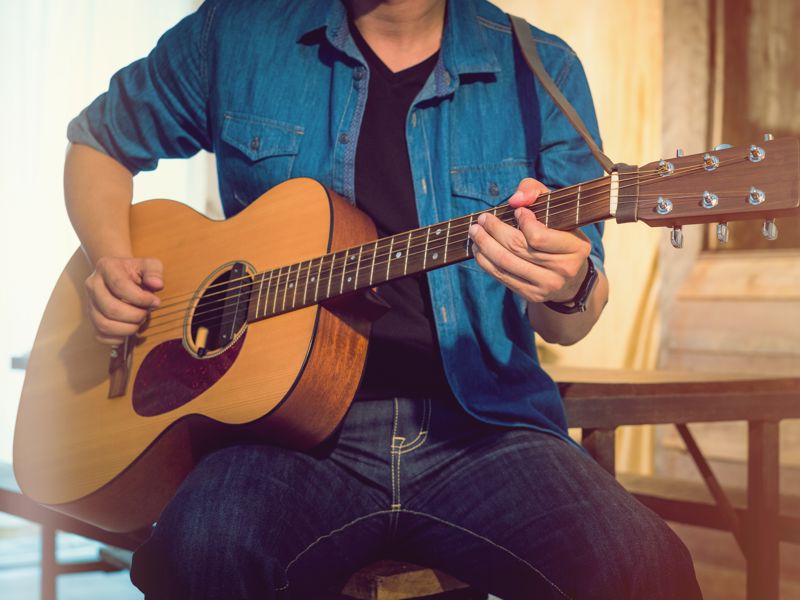 This is a non-qualification course where students will learn all aspects of acoustic guitar playing, with exercises and complete pieces backed up by written material.
Styles will cover folk, blues with some pop, jazz and classical. Improvisation is also covered in this course.
Paul Vickers is an experienced musician and teacher of acoustic guitar in colleges and schools. He is an active professional musician, who will enjoy welcoming you to his class.
The course is for those who want to develop upon their existing skills and techniques. To join this class you will need to have knowledge of all chords and harmony and have already completed the basic ability course (or a minimum of 20 hours equivalent teaching).
This is a non qualification course
Monday evenings, 7-9pm at Highbury Campus, Cosham. All students are expected to attend all of their timetabled sessions on time, unless prior agreement has been made and agreed with their tutor. If a student arrives more than ten minutes late for class they may be asked to leave. If a student is absent for three consecutive weeks without notice they will automatically be withdrawn from the course.
The outcome will be mastery of right and left fingering, chord construction, treble and base lines, as well as tuning procedures and general instrument care.
Related Features
NEWS 14-12-2022
More choice to find the route that's right for you!
Our exciting journey has taken a giant leap forward! This new website is the result of Highbury and Portsmouth College's official merger, an ambitious move which is already creating significant benefits for the city and region.
NEWS 22-12-2021
Music students put on amazing showcase at Wedgewood Rooms
Music students pulled out all the stops for their performance at the Wedgewood Rooms.