A Level English Language
Course Code: Q100033
Key Information
Course type

A Levels

Campus:

Sixth Form Campus

Start Date:

Sept 23

Duration:

Two years

Attendance:

Full-time

16-18 school leaver fee:

Free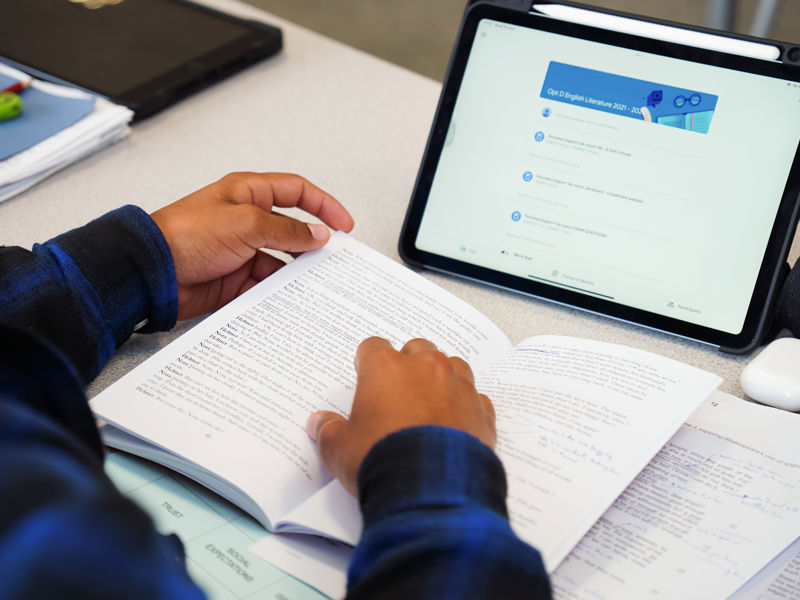 For those who have a genuine interest in the ways that English language is used in the world. You should have a confident knowledge of current affairs as well as an understanding of world history.
Units include:
language variation - how language choices can create personal identities. You will also explore language variation in English from c1550 (the beginnings of early modern English) to the present day
child language - how children learn to speak, read and write and the stages of development. You will learn about theories around language acquisition
investigating language - to develop your independent research skills and to focus on an area of language that interests you.
crafting language – this module allows you to demonstrate your skills as writers within your selected genre, crafting texts for different audiences and/or purposes. You will also reflect on your research and writing in an accompanying commentary.
Have you ever wondered why we use certain words and phrases in our spoken exchanges? Using linguistic terminology and concepts, you will develop the ability to see what language choices reveal about a person's opinion of themselves, their listeners and what their real purposes are in the communication.
Explore these ideas as well as a wide range of language issues. You will see how changes in language over time have been influenced by key historical events. You will also explore how children learn to communicate based on their environmental influences - like family interactions, television and books.
A minimum of five GCSEs at grade 4 or above, including a grade 5 or above in English language.
80% exam, 20% coursework.
You will have a 9.55am start, one lesson in the morning, one in the afternoon and a guaranteed 4pm finish. You will also have at least one morning and one afternoon per week free for private study.
You can progress to university to study subjects such as linguistics, English, journalism, media studies, drama, law, and business.
Related Features
Event 17-05-2023
May Open Event - Highbury & North Harbour Campuses
Check out all the fantastic adult & vocational opportunities available at our Highbury & North Harbour Campuses by coming along to our next open event on Wednesday 17 May, 4.30-7.30pm.
NEWS 18-08-2022
Jubilant students celebrate record A Level results
Students and staff are celebrating record A Level results today, with a remarkable 99% pass rate.
NEWS 14-12-2022
More choice to find the route that's right for you!
Our exciting journey has taken a giant leap forward! This new website is the result of Highbury and Portsmouth College's official merger, an ambitious move which is already creating significant benefits for the city and region.