Ex-plasterer takes a hands-on approach to blindness
PUBLISHED 25-04-2023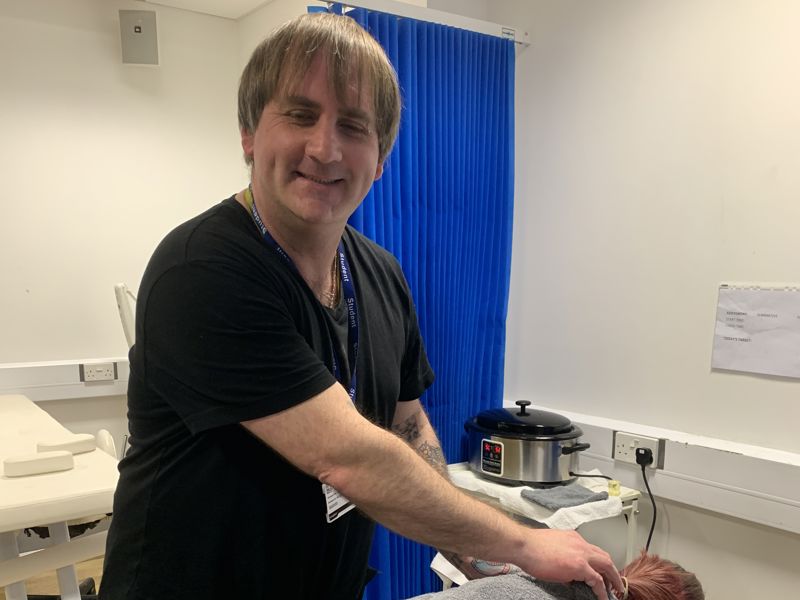 After a 25-year career as a plasterer, a catastrophic illness which left him almost completely blind could have had a devastating impact on Richard Kirk.
Instead, the 43-year-old dad took the opportunity for a complete change in career, by training to be a massage therapist.
Richard is now well on his way to achieving a Level 3 VTCT Diploma in Massage Therapy.
And he's busy planning to convert his garage at home so he can go into business as a full-time masseuse.
"I've always been quite good with my hands and apparently I still am!" he said. "I'm really enjoying the course and the support I'm getting from the college and from all the people around me is wonderful. They're like another family to me!"
Richard, who sees only light and shade, is supported by a Learning Assistant. He's also hoping to get a guide dog soon, which will accompany him to classes.
His life was turned upside down when he suffered two cardiac arrests at the age of 39. During his treatment he contracted sepsis, which resulted in his sight being permanently damaged.
"I was so pleased that the College agreed to take me on as a student and it's really turned my life around," he added. "I'm much more confident now, I socialise more and I've made a lot of new friends."
Beauty Therapy Lecturer Carrianne Bungay said: "Richard's doing really well. He's confidently carrying out massages on clients and receiving great feedback.
"He has a really good rapport with me and the other students and we all want the best for him. He also knows he can rely on us for further support any time in the future if he needs us."
Course type Vocational
Level 3 VTCT Diploma in Massage Therapy