Recognition for 'Local Media Champion' journalism assessor
PUBLISHED 26-04-2023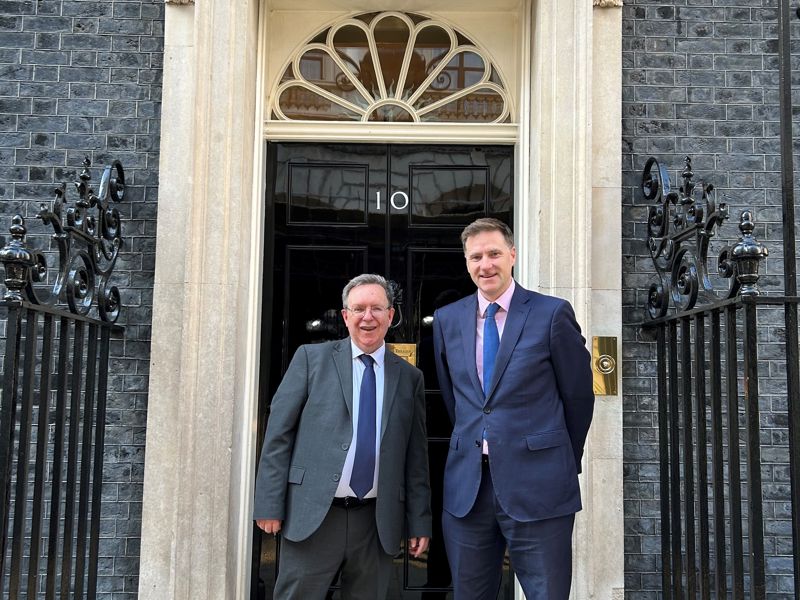 Journalism assessor Kevin Gover was invited to Number 10 to be recognised as a 'Local Media Champion' by Culture Secretary Lucy Frazer.
Kevin joined around 100 other reporters and presenters from across the country at the reception.
"When I was interviewed for the post at Highbury Campus in 2020, we discussed at length the importance that I also continue my work for local radio and newspapers to keep up with emerging trends and industry practice," he said.
"Since then we have provided News Days for NCTJ students in conjunction with Winchester Today, and they have all produced articles that were printed in the newspaper, on the website and on the radio which has been of enormous benefit to them."
Kevin was nominated for the recognition by his MP Steve Brine, who was born in Portsmouth and also studied journalism at Highbury.
Steve became an MP for Winchester in 2010 and opened Kevin's DAB+ radio station in the city in October 2022.
Said Steve: "This is the Prime Minister's way of using Number 10 to thank 'Local Media Champions' – people like yourselves running community radio stations and similar on no budget... people like yourselves who help out younger budding journalists, just like others did for me many years ago."
Darren Sadler, Course Leader for our NCTJ Journalism courses, said Kevin's achievement is a real coup for the College and recognises the importance of how strong journalism can enhance a community.
"Having Kevin on the teaching team here at COPC is an honour and demonstrates the high professional standards of teaching we offer."
Holly Saunders, our Head of Commercial and Employer Services, added: "Our journalism apprenticeships have really benefited from Kevin's experience within the journalism industry, and it is this experience that has enabled us to expand our offer to include the NCTJ Journalism for Digital Audiences and Sports Journalism training modules."
Course type Apprenticeships
Level 5 Journalist Apprenticeship Standard
Course type Vocational
Level 5 NCTJ Diploma in Journalism
Course type Vocational
Level 3 CTEC Certificate/Extended Certificate or Diploma in Digital Media