Three COPC Foundation students reach the finals of WorldSkills UK
PUBLISHED 19-07-2023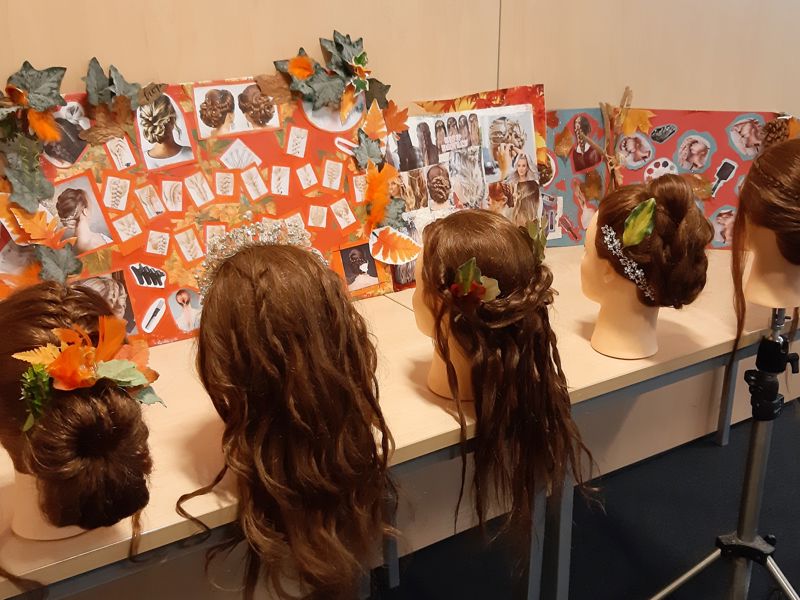 Three City of Portsmouth College Foundation students are leading the way to the finals for this year's WorldSkills UK Competition, held in Manchester in November.  
WorldSkills UK is a showcase of the very best technical skills in many subject areas, being held at 9 venues across Manchester. Our students will be competing in the Foundation Hairdressing finals, which are being hosted by Manchester College.  
For Lilly Coben (16), Amy Gratton( 21) and Jordan Whiting (21), hairdressing is part of their enrichment activities which they take part in every Friday at College. They are absolutely thrilled to have been recognised for their skill and talents and were excited to create styles within this year's theme of autumnal looks.  Lily said, "I was a little bit nervous about the National Qualifiers and now that I have got through to the finals, I feel really happy and excited.' Jordans guardian said "The whole experience has been wonderful for Jordan, and they are over the moon, and their whole outlook is now a happy one. " 
Lisa Mayhead, the student's lecturer said "all the students that took part in the WorldSkills competition worked so hard, they attended extra classes, learnt many new skills, and watching their confidence and self-belief grow was just amazing. 'Super super wow! I'm so proud of them all. ' They're among eight UK finalists taking part in the Foundations Hairdressing Final, it's such a great result for COPC. 
WorldSkills UK Interim CEO Ben Blackledge says "As well as boosting young people's personal skills and developing the skills that employers and the economy needs, events like the WorldSkills UK National Finals shine a light on the vital importance of high-quality skills to the UK and the vast talent and potential we have in the next generation." 
Young people are also full of praise for the competitions with the vast majority (97%) of previous entrants saying taking part improved their technical skills and 93% saying they improved their personal and employability skills. 
500 students from all areas of the UK will attend finals which take place on 14th, 15th, 16th, and 17th November. The celebration of world-class skills will culminate in the announcement of the winners at a glittering awards ceremony on Friday 17 November at The Bridgewater Hall.  
We wish our students the best of luck and every success!