Celebrating Our 2023 HE Graduates!
PUBLISHED 19-09-2023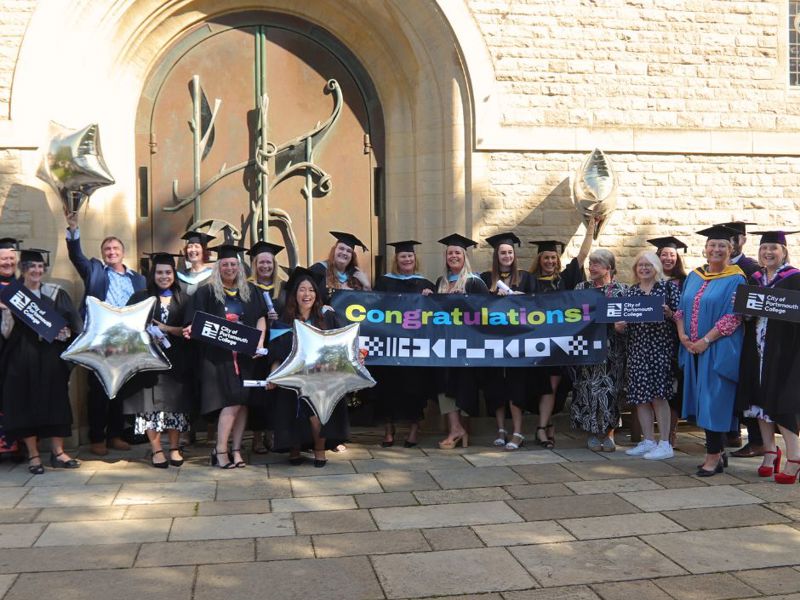 Students gathered at Portsmouth Cathedral alongside their friends, family, and COPC staff members to celebrate their graduation ceremony.
On Friday the 15 September, 12 graduates were honoured in front of an audience filled with supportive friends and family.
The ceremony was opened by Matt Phelps, our Deputy CEO and Deputy Principal Curriculum & Quality, who introduced the senior academic staff on stage and gave a warm welcome to all guests.
Katy Quinn, Principal and CEO, said: "As the College for the City, we're here to provide opportunities for the entire population, regardless of age, or the stage their education has reached by the time they join us."
"We believe that everyone has the potential to be brilliant. With hard work and determination, dreams and goals can be achieved."
In her closing statement, Jo Shankland, Vice Principal Student Experience, said: "Portsmouth is one great city, served by one great college and one great university, all working in a spirit of cooperation to drive economic success for businesses and individuals, looking ahead beyond the current difficult economic times."
The graduates celebrating their success were:
Katherine Dickenson (Level 4 Diploma in Professional Accounting); Steven Hendry and Debbie Weir (Level 5 English Language Teaching to Adults CELTA); Kailee Benfield, Norah Carruthers, Lucy Cottrell, Jackie McLoughlin, and Deborah Tegerdine (Level 5 Associate Diploma in People Management); and Laura Hannam, Ai Parlagreco, Paula Tegerdine, and Leoni Watt (Level 5 Diploma in Education and Training).
They were joined by relatives and friends, as well as Shirley Nellthorpe, Governor of City of Portsmouth College.