A Level Chemistry
Course Code: Q100154
Key Information
Course type

A Levels

Campus:

Sixth Form Campus

Start Date:

Sept 23

Duration:

Two years

Attendance:

Full-time

16-18 school leaver fee:

Free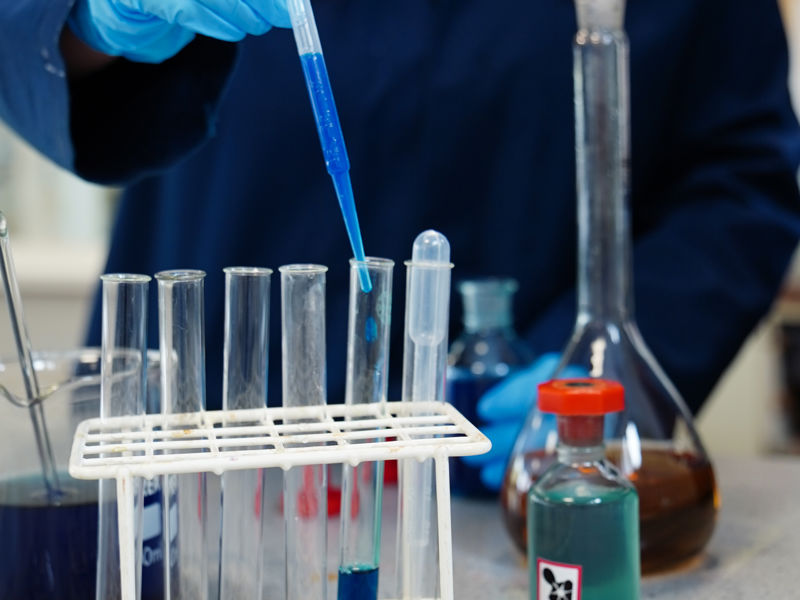 For you if you want to learn more about matter and the chemical reactions between substances. Chemistry is critical to the big issues facing our world, such as energy, climate change and feeding a growing global population, as well as cutting-edge development in materials science and biomedical sciences.
Units include:
development of practical skills in chemistry
foundations in chemistry
periodic table and energy
core organic chemistry
physical chemistry and transition elements
organic chemistry and analysis.
You will develop skills to allow independent learning and problem solving – a crucial element of being successful in this pure science subject. Practical work will be emphasised and you will be supported to complete the course with a practical endorsement alongside your A Level qualification.
You are encouraged to undertake a relevant work experience placement, particularly if you are looking to pursue a career in medicine and veterinarian sciences. Also, if you would like to improve your maths qualifications, inquire about core mathematics alongside your main subjects.
A minimum of five GCSEs at grade 4 or above including English language. You will also need grade 6 or above in GCSE maths, and grade 6 or above in chemistry and one other GCSE science subject, or 6s in GCSE double science.
Assessments will comprise 60% personal investigation and 40% externally set practical exam. Your coursework is internally assessed and externally moderated.
You could progress to university or straight to employment, particularly in roles that combine maths, analytical skills and problem solving with links to biology and physics. Careers include engineering, manufacturing and branches of medicine, such as nursing, dentistry and veterinary, as well as law and financial industries.
Related Features
NEWS 14-12-2022
More choice to find the route that's right for you!
Our exciting journey has taken a giant leap forward! This new website is the result of Highbury and Portsmouth College's official merger, an ambitious move which is already creating significant benefits for the city and region.
NEWS 30-03-2023
TECH:TRUCK - it's time to get onboard with your future
The College is excited to announce the launch of TECH:TRUCK, the brand new mobile education and technology roadshow with the wheels set firmly in motion for a busy inaugural year touring local schools and community events.