Level 2 Carpentry & Joinery Apprenticeship Standard for Adults
Course Code: P249313
Key Information
Course type

Apprenticeships

Campus:

North Harbour Campus

Start Date:

Flexible

Duration:

Two years

Attendance:

Flexible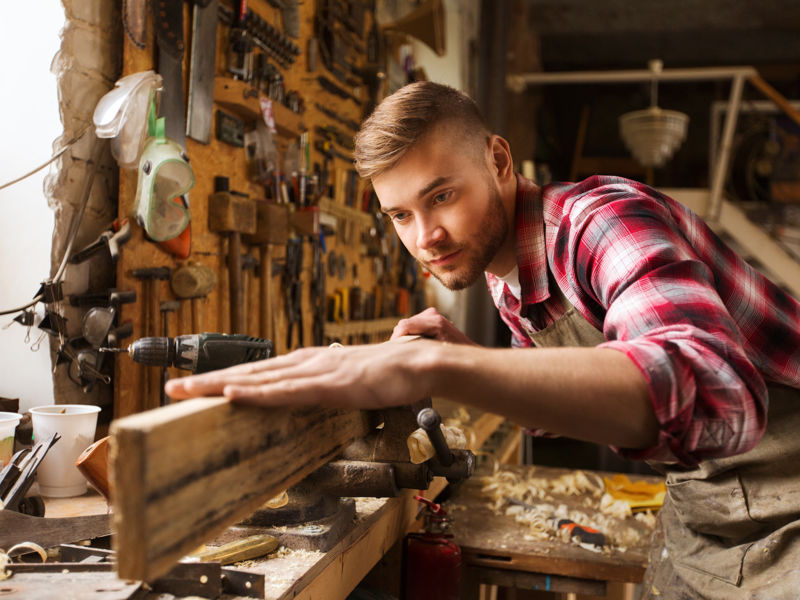 Designed to develop the apprentice into a carpenter and provide them with the technical knowledge and behaviours they require to be successful in this role.
Units include:
high-quality customer service and communication methods
measuring, marking out, fitting, cutting, splicing, finishing, positioning, and securing
installing door and window frames, door and hatch linings, floor joist coverings, straight partitions and straight staircases
installing doors, ironmongery, service encasements, wall and floor units and fitments, cladding and staircase components
erecting inclined roofs with gables, joists, roof coverings and roof components
repairing or replacing frames, mouldings, doors, windows, door and window ironmongery, roofing components, guttering and downpipes and window components
using, maintaining, and storing tools and equipment
specific joints, such as mitres, butt and halving joints.


The broad purpose is working with building materials (most often wood) to create and install building components. This typically involves shaping and cutting materials, installing finished materials like partitions, doors, staircases, window frames, mouldings, timber floor coverings and erecting structural components, such as floor joists and roofs. All work needs to be carried out safely, using the appropriate tools and to the quality specified.
You will need to have already achieved maths and English grade 3 or above, or Functional Skills Level 1.
You will build a portfolio of work and workplace assessors will be in regular contact to provide support, and to arrange onsite visits to observe your ability and skills in your daily role. It is important for you to take ownership of your own learning by seeking out opportunities to gain new skills on the job with your employer. Learning in college will be delivered through a mixture of classes, work-related activities and independent study and research.
Your final grade will be determined by collective performance in the three assessments in the endpoint assessment.
•    online knowledge-based tests
•    skills test (knowledge and behaviours are observed in the workplace)
•    professional discussion (to demonstrate that you can apply the broad range of knowledge, skills and behaviours in the Standard).
You will attend college at our North Harbour Campus. College attendance is one day a week. Your assessor will liaise with you to set up mutually convenient times for consultation and assessment visits at your place of work. It is a government requirement for you to spend 6 hours of your apprenticeship working towards your off-the-job learning which can consist of college attendance, homework/coursework, project related work, employer training, mentoring, and coaching – plus a number of other tasks (more information can be shared).
You can progress to a Level 3 Carpentry and Joinery Apprenticeship or a different construction course/apprenticeship.
Related Features
Event 17-05-2023
May Open Event - Highbury & North Harbour Campuses
Check out all the fantastic adult & vocational opportunities available at our Highbury & North Harbour Campuses by coming along to our next open event on Wednesday 17 May, 4.30-7.30pm.
NEWS 14-12-2022
More choice to find the route that's right for you!
Our exciting journey has taken a giant leap forward! This new website is the result of Highbury and Portsmouth College's official merger, an ambitious move which is already creating significant benefits for the city and region.