Level 2 Hair Professional Apprenticeship for Adults
Course Code: P238613
Key Information
Course type

Apprenticeships

Campus:

Highbury Campus

Start Date:

Flexible

Duration:

18 months

Attendance:

Flexible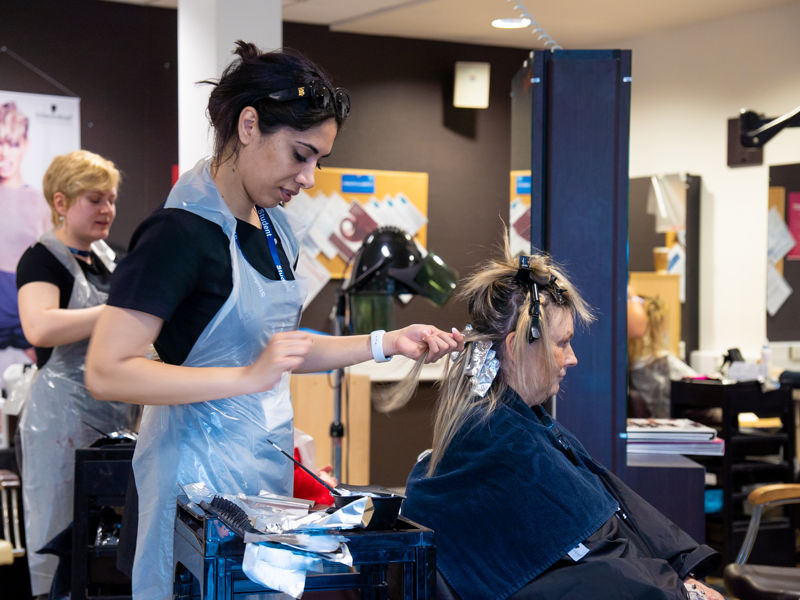 For apprentices with no or limited knowledge within the trade.
Units include:
shampooing, conditioning and treating the hair and scalp
cutting hair using a range of techniques to create a variety of looks
styling and finishing hair
colouring and lightening hair
hair relaxing treatments and techniques
maintaining effective, hygienic and safe working places
customer service, communication, and client liaison skills
consultation skills.
Apprentices must have access to real work which is valid and productive, providing opportunities to develop, practice and evidence knowledge and skills that have been learned. This type of learning is undertaken outside the normal day-to-day working environment. It can include activities such as online learning, mentoring, role play, attending competitions and events, or revision and assignments set as homework.
To successfully complete the apprenticeship, you will need both maths and English at grade 2 or above, or Functional Skills Level 1. If necessary, these can be studied at College alongside your apprenticeship.
You will build a portfolio of work and workplace assessors will be in regular contact to provide support, and to arrange on-site visits to observe your ability and skills in your daily role. It is important for you to take ownership of your own learning by seeking out opportunities to gain new skills on the job with your employer.

You and your employer will be enrolled on our award-winning e-Portfolio system 'OneFile' to enable both parties to upload evidence of learning and to track progression through the programme.

Your final grade will be determined by the collective assessments known as 'the end point assessment', grading will be set at fail, pass and distinction.

Assessments include:
• practical (knowledge and behaviours are observed in the workplace)
• professional discussion/questioning (to demonstrate you can apply the broad range of knowledge, skills and behaviours in the Standard).
You will attend Highbury Campus in the specially designed salon Eden. You will attend one day a week, on a Tuesday.
You will spend 6 hours of your apprenticeship working towards your off-the-job learning, which can consist of college attendance, homework/coursework, project related work, employer training, mentoring, and coaching – plus a number of other tasks (more information can be shared).
You could progress to a relevant Level 3 course or apprenticeship or alternatively attend specialist courses in hairdressing.
Related Features
Event 17-05-2023
May Open Event - Highbury & North Harbour Campuses
Check out all the fantastic adult & vocational opportunities available at our Highbury & North Harbour Campuses by coming along to our next open event on Wednesday 17 May, 4.30-7.30pm.
NEWS 11-05-2022
Former hairdressing apprentice scoops top award
A former City of Portsmouth College apprentice at the cutting edge of her profession has scooped a top national hairdressing award.
NEWS 14-12-2022
More choice to find the route that's right for you!
Our exciting journey has taken a giant leap forward! This new website is the result of Highbury and Portsmouth College's official merger, an ambitious move which is already creating significant benefits for the city and region.
NEWS 06-04-2022
Disney reimagined themed Hairdressing and Make-up Competition
Our beauty therapy and hairdressing students brought the magic and wonder of classic fairy tales to life while showing off their skills in this year's Disney Reimagined themed Hairdressing and Make-up Competition.