Level 2 Production Chef Apprenticeship Standard for Adults
Course Code: P265573
Key Information
Course type

Apprenticeships

Campus:

Highbury Campus

Start Date:

Flexible

Duration:

15 months

Attendance:

Full-time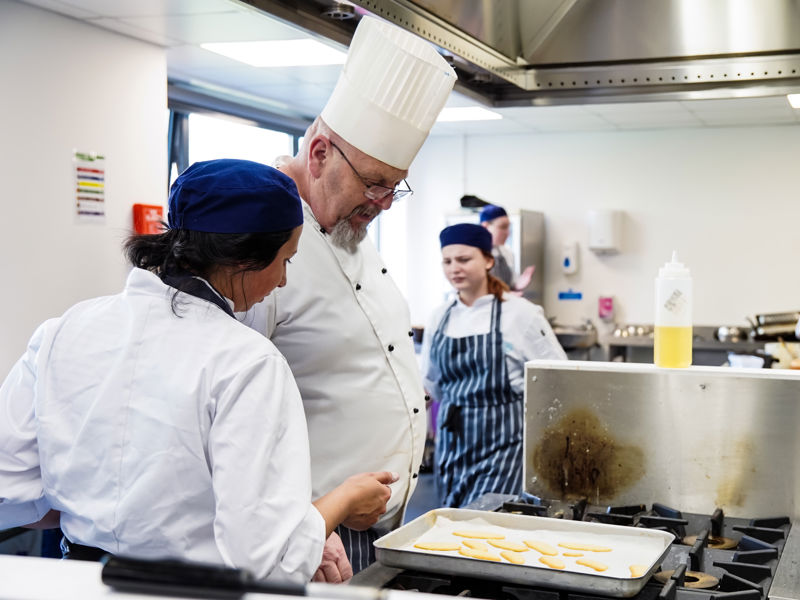 For the apprentice looking to develop their skills to become Production Chef.
Units include:
maintaining excellent standards of personal, food and kitchen hygiene
ensuring compliance to procedures, menu specifications and recipes
producing food, meeting portion controls and budgetary constraints
adapting and producing dishes to meet special dietary, religious and allergenic requirements
following, completing and maintaining production schedules, legislative and quality standard documentation
using specialist kitchen equipment
communicating internally and externally with customers and colleagues
commitment to personal development activities.
Production chefs work as part of a team in time-bound and often challenging kitchen environments, for example, schools, hospitals, the armed forces, care homes and high street casual dining, take away services or pub kitchens. You will report to the senior production chef or appropriate line manager. In your role, you are likely to work with centrally developed standardised recipes and menus, producing food, often in high volumes. You will apply highly methodical organisational skills, energy, accuracy, attention to detail and be mindful of the importance of sustainability and protecting the environment.
To successfully complete the apprenticeship, you will need both maths and English at grade 2 or above, or Functional Skills Level 1. If necessary, these can be studied at College alongside your apprenticeship.
You will be taught by a fully qualified, experienced trainer in the classroom/kitchen, using a range of resources, including text books, demonstrations, practical tasks, and eLearning. You will have access to the college's own Virtual Learning Environment, OneFile, and will be expected to complete off the job study for at least six hours per week. You will be assessed by an external examiner at the end of your programme to achieve the Level 2 Production Chef Apprenticeship.

You will build a portfolio of work and a workplace trainer will be in regular contact to provide support, and to arrange on-site visits to observe your ability and skills in your daily role. It is important for you to take ownership of your own learning by seeking out opportunities to gain new skills on the job with your employer. Your final grade will be determined by collective performance in the assessments in the endpoint assessment.

1: on-demand test
2: practical observation
3: professional discussion (to demonstrate that you can apply the broad range of knowledge, skills, and behaviours in the Standard.)
Monthly attendance during term-time, in class for one full day and attendance to English and maths is essential if required. Additional attendance may be required for workshops and revision sessions. Attendance will be continuously monitored for College and employment.

There will be regular meetings with your trainer and employer, to discuss progress and ensure timely completion of all elements of your apprenticeship. These meetings may take place in College or in the workplace.

You will take responsibility for studying for your exams and gathering evidence and completing your portfolio of work, while in the workplace. Your employer is responsible for managing you, supporting and mentoring throughout your apprenticeship, and liaising with your tutor on a regular basis. Your training provider will supervise and support progress in developing your portfolio, and support you in preparation for your synoptic case study exam.

You will spend 6 hours of your apprenticeship working towards your off-the-job learning, which can consist of college attendance, homework/coursework, project related work, employer training, mentoring, and coaching – plus a number of other tasks (more information can be shared).
You can progress to a Level 3 qualification including a Level 3 apprenticeship or into employment or higher education.
Related Features
Event 17-05-2023
May Open Event - Highbury & North Harbour Campuses
Check out all the fantastic adult & vocational opportunities available at our Highbury & North Harbour Campuses by coming along to our next open event on Wednesday 17 May, 4.30-7.30pm.
NEWS 14-12-2022
More choice to find the route that's right for you!
Our exciting journey has taken a giant leap forward! This new website is the result of Highbury and Portsmouth College's official merger, an ambitious move which is already creating significant benefits for the city and region.