Acrylic Painting Studio for Adults
Course Code: Q260176
Key Information
Course type

Hobby & Leisure

Campus:

Highbury Campus

Start Date:

April 2023

Duration:

8 weeks

Attendance:

Part-time

Adult fee:

£72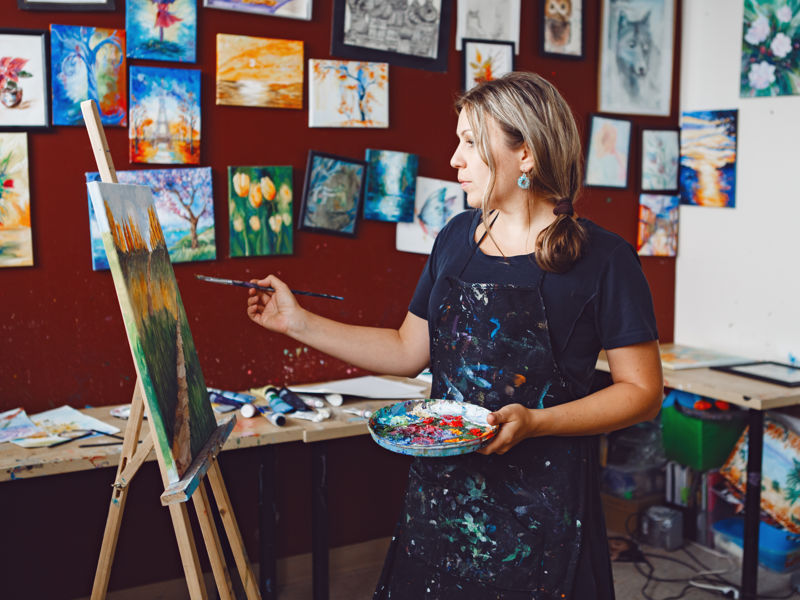 This course is for anyone interested in learning how to paint portraits and landscapes with some basic knowledge of painting in acrylic, watercolour or oil.
You will learn the skill needed to paint captivating portraits and landscapes with detail and depth. You will explore painting in monochrome tones and in the full colour spectrum. There is some drawing for composition involved at the beginning. For the portraits, the grid technique for enlarging images will be used. In the landscape genre painting techniques such as wet in wet, dry brush and glazing will be fully explored. The efficient use of brushes, palette knives and other tools for creating rich textures and interesting effects will be going on throughout the course.
Discover:
how to paint portraits, sculptures and landscapes with acrylic paint
how to use brushes, palettes and other tools efficiently for painting
how to use the grid technique for enlarging images
how to mix acrylic paint according to the colour wheel and how to mix skin tones in particular
the use of painting techniques such as glazing, wet in wet, scumbling, etc
how to develop a personal painting style.
Some basic knowledge of painting in acrylic, watercolour or oil.
Related Features
Event 17-05-2023
May Open Event - Highbury & North Harbour Campuses
Check out all the fantastic adult & vocational opportunities available at our Highbury & North Harbour Campuses by coming along to our next open event on Wednesday 17 May, 4.30-7.30pm.
NEWS 14-12-2022
More choice to find the route that's right for you!
Our exciting journey has taken a giant leap forward! This new website is the result of Highbury and Portsmouth College's official merger, an ambitious move which is already creating significant benefits for the city and region.
NEWS 21-06-2022
Praise for extraordinary shop
A new shop, stocked and run by students with additional needs, has been opened at our Arundel Campus in the commercial heart of Portsmouth.