Jubilant students celebrate record A Level results
PUBLISHED 18-08-2022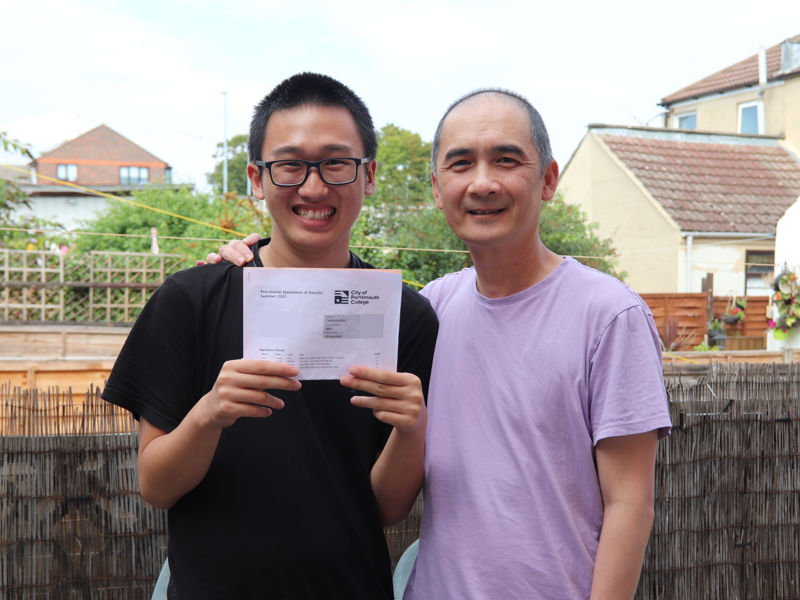 Students and staff at City of Portsmouth College are celebrating record A Level results, with a remarkable 99% pass rate.
There was a 100% pass rate in 20 of the 31 A Level courses available and more than half the students achieved high grades of A*-B.
Emotional scenes followed the news that Jamie Ngo, 17, is off to Oxford to study history after gaining A*s in English literature and language, history, and politics.
His proud dad Dzung, 53, came to the UK as a refugee from the Vietnam war at the age of 10.
He said he never imagined that his son would end up studying at one of the best universities in the world. "When he opened his results, I just grabbed him and started crying!" he said.
Said Jamie: "You hear about kids from Eton and places like that going there. But Portsmouth school kids? It shows what you can achieve with the right support and if you believe in yourself."
Principal and CEO Katy Quinn said she was 'absolutely overjoyed' by this year's results, with 80% of students achieving A*-C grades.
The success was even more impressive given that they were the first cohort to have sat actual exams since the Covid pandemic.
"It's testament to our exceptional teachers and support staff, who have worked so hard to support our students through some hugely challenging times, and to the students themselves who have overcome those challenges to achieve such fantastic grades," she said.
The results came just a year after the official merger of Highbury and Portsmouth Colleges to form City of Portsmouth College.
"With 31 subjects, we now offer the largest number and broadest range of A Levels within the City of Portsmouth, as well as a fantastic selection of vocational and technical courses," Katy added.
"Alongside our academic offer at Tangier Road, we also offer a breadth of vocational and technical qualifications at our Highbury and North Harbour Campuses. At City of Portsmouth College we have something for everyone.
"Our next cross campus open events are being held on 12 and 13 October from 4.30-7pm at our Tangier, Highbury and North Harbour Campuses and we're really looking forward to welcoming our future students in the next academic year and beyond."
Check these courses out