It's never too late to be an apprentice!
PUBLISHED 15-02-2023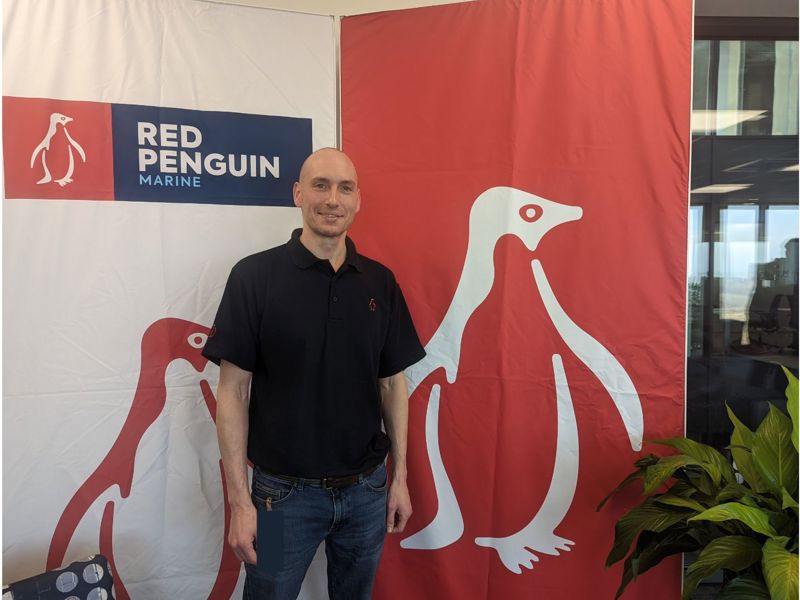 Just ask Ryan Barnett! At the age of 39 he's become the first Project Management Apprentice to be taken on by Red Penguin Marine, a subsea cable-engineering consultancy.
We've teamed up with the Portsmouth-based company to deliver the expert training to Ryan remotely via day release.
Last year Ryan achieved a first-class Open University degree in Renewable Energy and Sustainable Engineering, completing his part-time studies in four years.
He now has his sights set firmly on completing his apprenticeship in a year, having joined Red Penguin in January 2023.
Based in the New Forest, he has held a wide variety of jobs ranging from a building site crane signaller, a commercial artwork and mirrors installer, a labourer and even a stint as a prison officer.
"Having gained my degree, this apprenticeship has given me the opportunity to professionally contribute to net zero targets," he said.
He was offered the apprenticeship with Red Penguin on the same day he received his degree certificate, and so far he loves the job and has been impressed by the College training.
So much so, he's already got his sights set on a master's degree in Marine Engineering and a future as a Chartered Marine Engineer:
"I'm determined to try to make a difference," he said. "The apprenticeship route is a fantastic opportunity for me to work with a company that is enabling real change on both local and global scales, and to contribute to the decarbonisation of millions of homes, while achieving my professional goals."
Red Penguin Marine Director and General Manager Matt Bowden said: "As well-respected engineers and subsea cable consultants, our company standards are high, as is our reputation across the power and telecommunications sectors.
"Apprentices offer an opportunity to grow individuals professionally, whilst they contribute daily to our business outputs.  We have a responsibility to grow the next generation of experienced and professional cable engineers and are delighted to partner with City of Portsmouth College and very happy to have Ryan on board."
At City of Portsmouth College, we work closely with employers in the region to provide and deliver training for a wide range of apprenticeships.
Toby Cartledge, our Employment Services Team Leader said: "Apprenticeships provide skills for life, whatever your chosen career, they're a fantastic way forward, so you finish with a qualification, real-life experience, money in the bank and a world of opportunities.
"Our partnership with Red Penguin to support and develop Ryan as their apprentice has huge benefits for all the parties involved."