Three of our journalism apprentices scoop top industry recognition
PUBLISHED 08-03-2023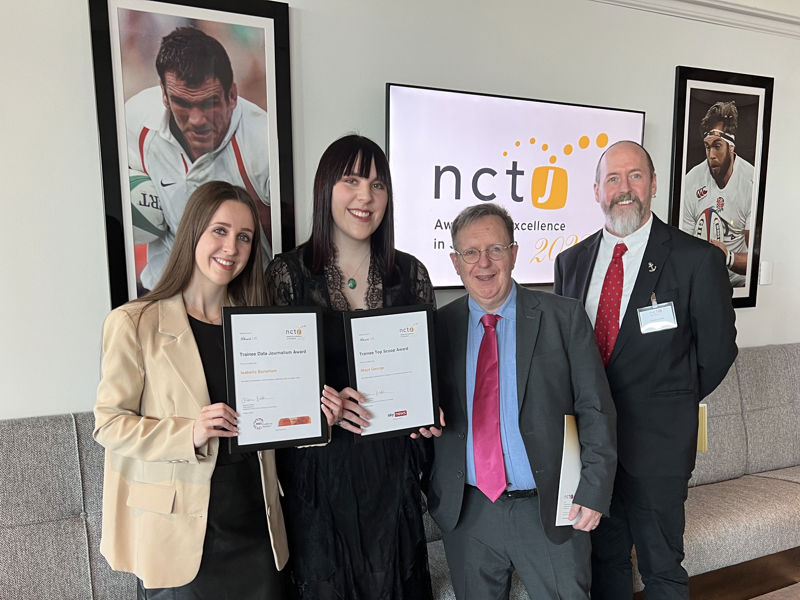 Three of our journalism apprentices are celebrating after receiving national recognition for their skills.
Isabella Boneham, George Carden and Maya George were honoured at the National Council for the Training of Journalism Awards for Excellence in Journalism.
The annual event took place at Twickenham Rugby Stadium and was attended by all 60 shortlisted nominees, together with editors and industry professionals from top media organisations including News UK, Sky News, News Associates, Iliffe Media Group and Meta.
Maya was highly commended in the Trainee Top Scoop category, Isabella was commended in the Trainee Data Journalism category, and George was commended in the Trainee News Journalism category.
"Shock and delight are the only two words I can use when it comes to being shortlisted in the NCTJ Awards for Excellence," said Maya, who works for the Southampton Daily Echo. 
"I never expected my work to be nationally recognised and being shortlisted felt like winning the prize itself." 
Isabella, who works for National World, said: "I am immensely proud to have been shortlisted for an NCTJ award and to have been recognised for my hard work. 
George, who works for the Brighton Argus, added: 'These awards reaffirm the hard work we all do in what can be a stressful but very rewarding job." 
The NCTJ awards recognise the achievements of journalism students, apprentices and trainees, as well as innovations in training and celebrating commitment to promoting diversity in the industry.
Journalism Course Leader Darren Sadler said he was very proud of the trio who have worked diligently throughout their apprenticeships.
"I'm over the moon for all three students and the recognition their reporting skills have achieved. The industry is tough, the competition is hard, and so it's always a pleasure to see College talent rising to the top."
Journalism Apprentice Assessor Kevin Gover said: "To have three nominations in one year is quite unprecedented. It shows that the College is more than able to stand its own against much bigger institutions. 
"Our apprentices have shown commitment, enthusiasm and ingenuity to provide stories that stand out. Long may they continue."
While Maya has completed her apprenticeship, Isabella and George are both expected to finish their training at our Highbury Campus this academic year.
Our photo shows, from left, Isabella Boneham, Maya George, Kevin Gover and Darren Sadler.