A Level Economics
Course Code: Q100085
Key Information
Course type

A Levels

Campus:

Sixth Form Campus

Start Date:

Sept 23

Duration:

Two years

Attendance:

Full-time

16-18 school leaver fee:

Free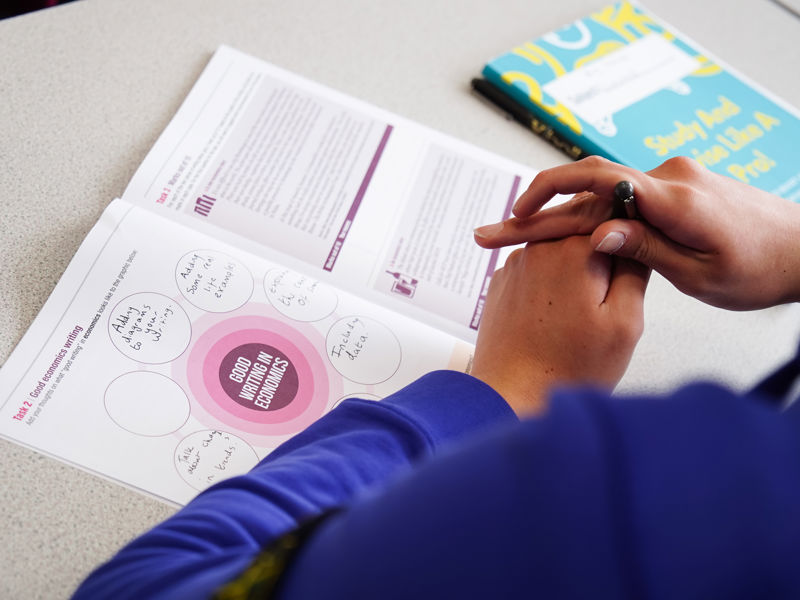 Economics is a well-established and highly regarded academic subject. It provides great opportunities for research and discussion of some of the major challenges facing Britain and the world today. An excellent partner to Politics and Business A Levels.
Units include:
microeconomics - the operation of markets and market failure
the economic problem, price determination, types of market and Government intervention
macroeconomics - the national economy in a global context
performance, circular flow of income, macroeconomic policy.
You will improve your analytical and communication skills. Economists must be able to review data, observe patterns, and draw logical conclusions. Economists must be able to explain their work to others and this course will improve your critical thinking skills.
You can take part in the Enterprise Academy, Unloc, which supports business knowledge and entrepreneurial skills. You will also be supported to set up your own personal enterprise or business.
A minimum of five GCSEs at grade 4 or above, including a grade 5 or above in GCSE English and maths.
You will have to take three exams, which you will sit at the end of your second year.
You will have a 9.55am start, one lesson in the morning, one in the afternoon and a guaranteed 4pm finish. You will also have at least one morning and one afternoon per week free for private study.
You could become an accountant, actuary, bookkeeper, budget analyst, business manager, credit analyst, financial analyst, management analyst, teacher or lecturer.
Related Features
Event 17-05-2023
May Open Event - Highbury & North Harbour Campuses
Check out all the fantastic adult & vocational opportunities available at our Highbury & North Harbour Campuses by coming along to our next open event on Wednesday 17 May, 4.30-7.30pm.
NEWS 15-11-2022
The race is on for A Level student Alex
A Level student Alex Smart is through to a national cross-country event after being placed sixth out of 61 in a regional heat.
NEWS 14-12-2022
More choice to find the route that's right for you!
Our exciting journey has taken a giant leap forward! This new website is the result of Highbury and Portsmouth College's official merger, an ambitious move which is already creating significant benefits for the city and region.
"The Industry Placement gave me an insight into what to expect for a Digital Marketing career. I was able to build on my skills and gain experience which helped me build a better image for the future and ultimately motivated me to complete my course and pursue a career in Digital Marketing."
Cristina Edwards
Level 3 Business
Placement provider: KSM Telecom
NEWS 21-09-2022
Graduation ceremony 2022
Portsmouth Cathedral has provided a stunning backdrop for our annual graduation ceremony.