TECH:TRUCK - it's time to get onboard with your future
PUBLISHED 30-03-2023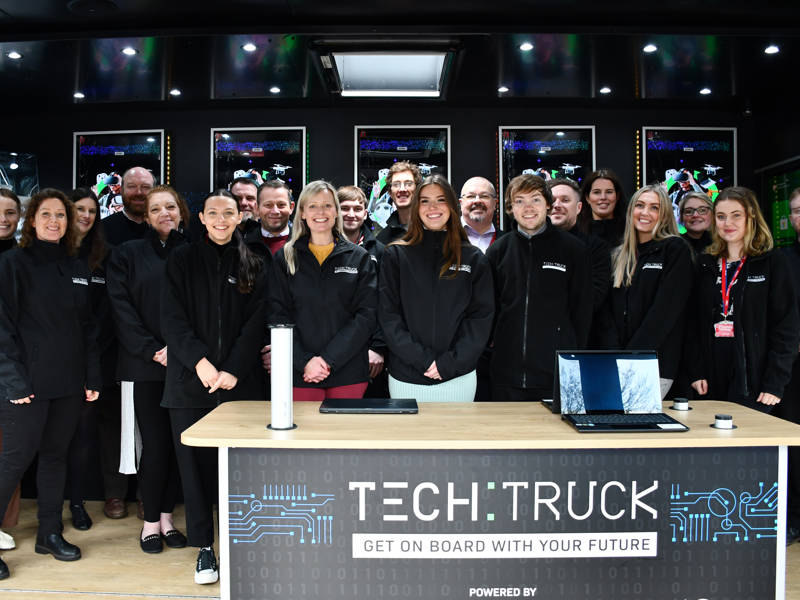 The College is excited to announce the launch of TECH:TRUCK, the brand new mobile education and technology roadshow with the wheels set firmly in motion for a busy inaugural year touring local schools and community events.
TECH:TRUCK made its first pit stop at Fareham College's Bishopsfield Road Campus to attend the Clean Growth Conference. The event provides a platform for local school pupils to present innovative and exciting ideas in response to the effects of climate change.
TECH:TRUCK aims to promote women in engineering and engage children and young adults with industry-led, cutting-edge technologies by showcasing a breadth and depth of forward-thinking engineering career opportunities within the digital, maritime and net zero technologies sectors.
The Fareham College led project sees a collaboration with six other local education providers, City of Portsmouth College, HSDC, Eastleigh College, City College Southampton, IOW College, Brockenhurst College, The Institute of Technology and The Solent Local Economic Partnership utilising TECH:TRUCK throughout throughout the year to increase awareness and exposure to the changing landscapes within the engineering technologies sectors.
TECH:TRUCK visitors will get the opportunity to interact with all showcased technologies, including virtual and augmented reality systems, marine and flight simulation technologies, fully programmable robotic arms, drones, 3D printers and more. The interactive vehicle has been expertly converted and customised by Sugoi Campers. TECH:TRUCK's industry-led equipment comes from ever-strengthening relationships between business and education.
Naomi Smith, Head of Workforce Industry Exchange at Fareham College, said: "We recognise the importance and value of working with industry-leading companies helping to inform our college curriculums. In turn, we can provide future-proofed courses which enable every student to feel equipped for progress in their chosen careers."
Matt Johnson, Director of the South Coast Institute of Technology, said: "The South Coast Institute of Technology is proud to be supporting the TECH:TRUCK. The South Coast needs more people with enhanced digital and engineering skills. Closing this gap starts with inspiring young people to come into these industries. We love TECH:TRUCK and think it is a great way for children to learn about the different careers and gain some exciting hands-on experience with state-of-the-art technology."
Additional funding was secured for TECH:TRUCK from the Department for Education through the second wave of the Strategic Development Fund (SDF), which provides investment to enable areas across England to re-shape teaching and training provisions, update facilities and invest in skills training and technical education, supporting businesses to address long-standing skills challenges.
To learn more about TECH:TRUCK, email hello@tech-truck.co.uk or visit tech-truck.co.uk