Graduation ceremony 2022
PUBLISHED 21-09-2022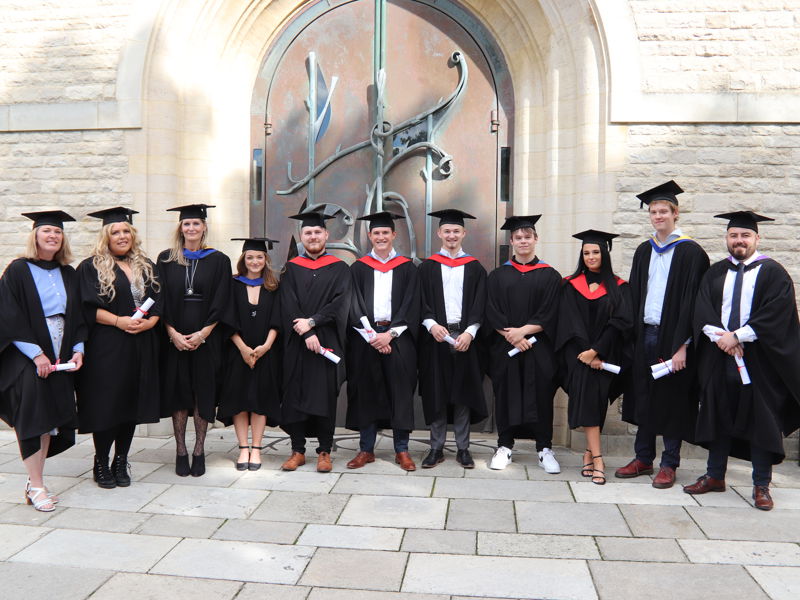 Portsmouth Cathedral has provided a stunning backdrop for our annual graduation ceremony.
A total of 13 graduates were honoured in the first event of its kind since the formal merger of Portsmouth and Highbury Colleges.
Katy Quinn, Principal and Chief Executive Officer, said: "The cathedral is a symbol of pride, identity and community in the city.
"As a newly merged college, we're here to provide opportunities for the entire population, regardless of their age or the stage their education has reached by the time they join us.
"Each of our graduates is a shining example of the intellect, skill and hard work, not just of our students but also our dedicated and professional staff."
Among the graduates was Katie Wainwright, who was celebrating her Level 5 TQUK Diploma in Education and Training, 14 years after being told at a university fair that she 'couldn't be a teacher'.
"Getting into education is the best decision that I made and I never realised the options available to you," she later said.
"Thank you City of Portsmouth College for supporting my journey. To my 17-year-old self who cried her way out of that fair, this is for you."
Other graduates were: Liam Finch (Level 4 HNC in Engineering); Rebekah Cox and Kerry Higgins (Level 4 Professional Accountant Standard); Jamie Dransfield, Ryan Gray and Hannah Hinks (Level 5 HND in Computing); Lewis Allison (Level 5 HND in Construction and the Built Environment); Callum White and James Buckley (Level 5 NCTJ Diploma in Journalism); and Alfie-Ray Conway, Kerry Pither and Emma Macnally (Level 5 TQUK Diploma in Education and Training).
They were joined by relatives and friends, as well as Chris Chang, the University of Portsmouth's Deputy Vice Chancellor for Global Engagement and Student Life.